Po wielu tygodniach rozważania, przerobieniu chyba ze 30 testowych modeli wybrałem w końcu barwy zakonu. Przerabiałem barwy gw adeptus battlegrey, gw boltgun metal, vallejo german grey, gw turquise hawk, gw the fang, gw stromvermin fur, washe mniejsze i większe, drybrushe lekkie i mocne, również podejście zenitalne przy użyciu szarych spreyów w puszce.
Wybór był ciężki, ale za sugestią brata postanowiłem pójść na kompromis: żeby nie była to ciemna plama na stole, ale żeby nadal pancerz był szary – zgodny z barwami zakonu. Wybór padł na Codex grey, a przepraszam, Dawnstone. Oczywiście sam na to nie wpadłem – zawsze Dawnstone wydawał mi się zbyt jasny, jest jednak w sieci jeden malarz, którego prace urzekły mnie od razu.
2SCREENS wykonał rewelacyjnie wyglądającą armię SM Redeemers. Zakon można obejrzeć TU i TU.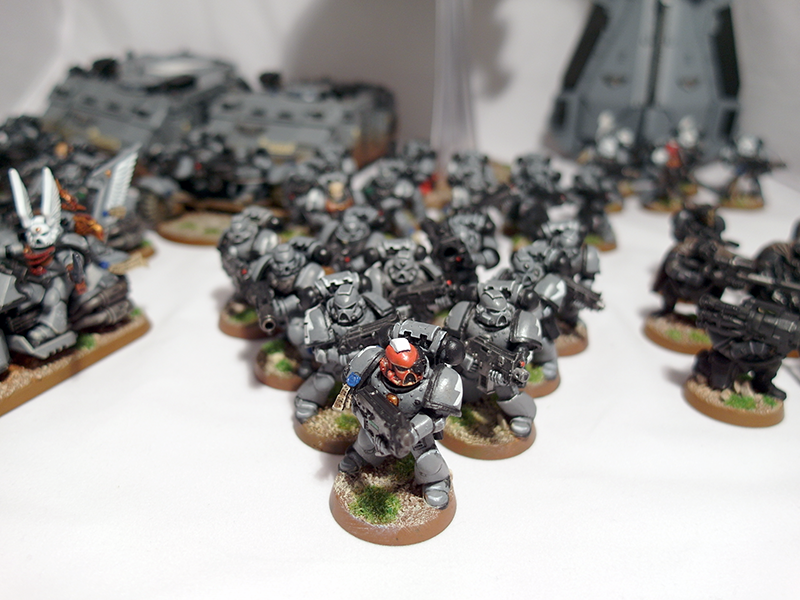 Wszystko mi się w tej armii podoba 🙂 Dlatego będzie to swego rodzaju wzór malowania mojego zakonu.