Exitum
Trzęsienia ziemi, tornada, erupcje lawy, i spotęgowane anomalie Warp – dzień rozpoczął się dramatycznie na powierzchni Saldany IV. Dowódcy początkowo nie chcieli podjąć decyzji o ewakuacji, informacje z archiwów były zbyt cenne, jednak przed południem tego dylematu już nie było – ewakuacja zmieniła się w dramatyczną walkę o przeżycie. Wielu wojowników poległo w walce z siłami natury, ogromne ilości sprzętu zapadły się w potężne wyrwy w powierzchni sięgające kilometrów wgłąb planety. Inni spłonęły w ogniu lawy wybuchającej pod całymi kilometrami powierzchni.
Również na orbicie nie byli bezpieczni, zamiast starcia z wrogimi jednostkami każdy z okrętów walczył o możliwość ucieczki jak najdalej od tej przeklętej planety…
Prawdziwa wartość archiwów zginęła razem z całą planetą Saldana IV…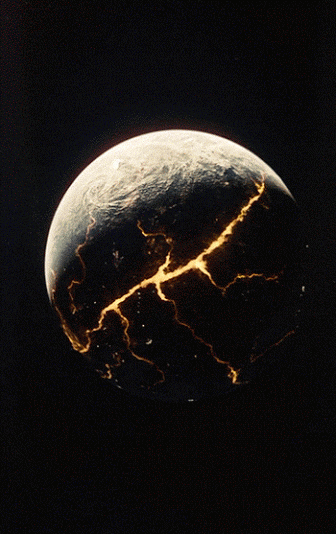 Gloria Expeditionem
Wszyscy dowódcy oraz jednostki gwardii honorowej, którzy brali udział w kampanii na Saldana IV mają prawo otrzymać odznaczenia.
Czy i jak to zrobicie pozostawiam Wam, kolory odznaczeń jakie proponuję to czerń i ciemna zieleń. Można dokleić im jakieś bitsy – czaszkę, szmatkę, cokolwiek innego pasującego do klimatu Waszej armii, albo tylko domalować gdzieś na ramieniu dwa paski w tych kolorach.
###
Decyzją głosów większości graczy zdecydowano na zmiany zasad i kampanii i jej zakończenie.
Mapę kampanii trwającej 16 dni (w realu 1,5 roku) możecie obejrzeć tutaj: http://bitewniaki.olsztyn.pl/sciezka-chwaly-prolog-mapa/sciezka-chwaly-prolog-dzien-po-dniu/
Serdecznie dziękuję za uwagę 🙂